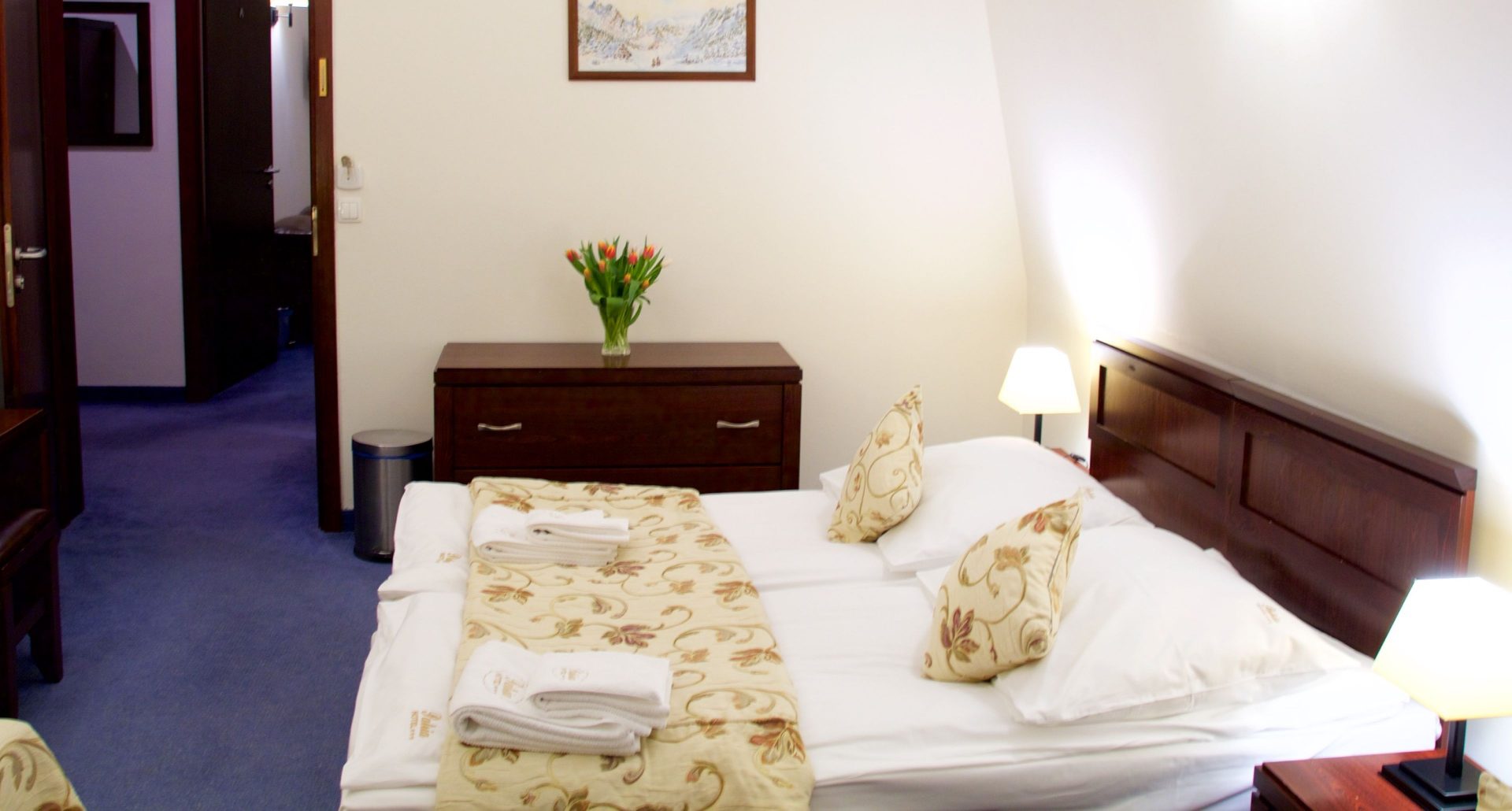 ABOUT STANDARD CLASS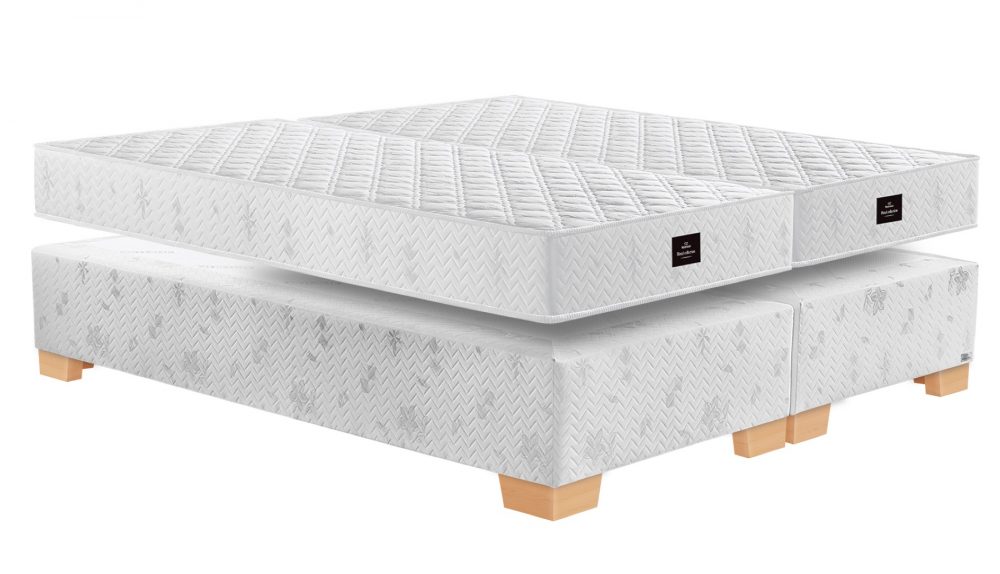 The purpose of this model is to use sufficiently durable materials, to maintain longevity and to provide maximum comfort while maintaining a favorable price. The height of spring or foam mattresses is 16 cm to 21 cm. The Boston fireproof and anti-bed bugs fabric will offer to your guests a comfortable feeling during their sleep. Products from this collection meet the standards that are recommended for three-stars hotels.
STANDARD BOXSPRINGS
The primary type of box-springs bed, based on a combination of chipboard and spruce boards.
22 - 32 cm
Boxspring height without legs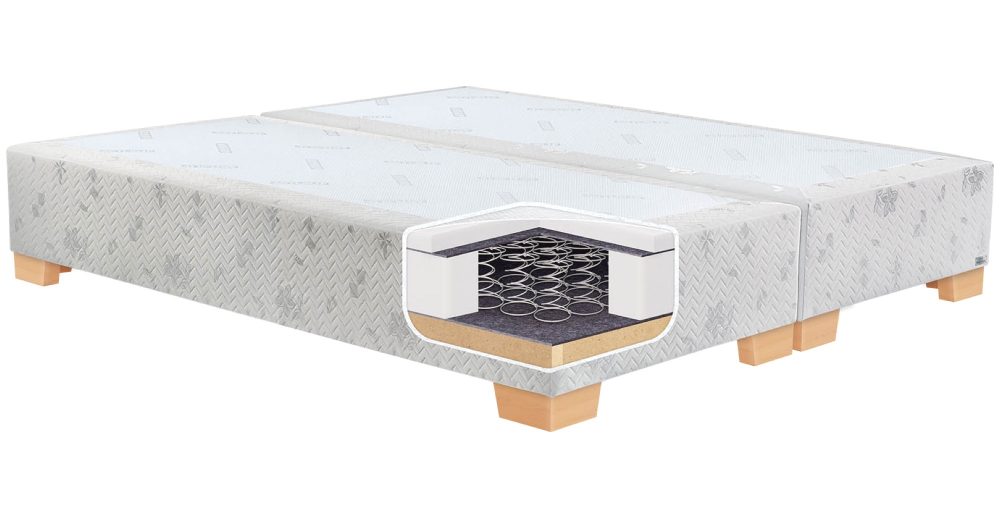 The chipboard frame contains a built-in bonell coils; when loaded, the coils act together with the mattress so that the surface fully conforms to the sleeper's shape, and thus provides an ideal comfort during the sleep. Commonly, the boxpring base is covered in a durable white cloth with fireproof design (BOSTON brand). We offer an assortment of wear-resistant cloths or artificial leather, and color choices of one's preference.
Furthermore, for an extra charge, we can stitch the anti-skid design ANTISLIP onto the middle area of the top upholstery layer; this will secure that mattresses sit on the boxspring bases properly. Boxspring bases from this model series meet the criteria for 3-star hotels; their height (excluding bed legs) can be adjusted from 22 to 32 cm.
Covering Skirt KLASIK

A simple design skirt that is easy to put on a hotel boxing bed.

Covering Skirt IMPERIAL

Design skirt with specially quilted corners. This skirt is suitable for the use of a box-front, front fitting, which the skirt can cover.

In fabric - solid upholstery

Boxingprings from each category can be hardcrafted into different fabrics or leatherette from our selection of materials. You can choose from a wide selection of high quality abrasion resistant, waterproof and easy to clean fabrics or artificial leather in various shades. We also offer upholstery for your own fabric or leatherette.

Box-spring safe

We are able to build a hotel room safe into the frame of a box-spring bed. This innovative idea makes sure that all valuables are kept absolutely safe.

23 x 17 x 17 cm

SIZE : Width x Height x Depthness
Standard Pocket

Your guests will love this exquisite coil mattress as soon as they try it. The combination of pocket coil and PUR foam guarantees perfect support and ultimate contour of the spine during sleep. Thanks to the airy coil core, you will feel fresh not only when falling asleep but also all night long. The space between coils causes the heat and moisture to evaporate, hence the mattress creates hygienically clean environment necessary for healthy and quality sleep. Enjoyable mid-firm comfort level and the mattress height of 19 cm adds to the coziness and well-being that make the essence of good sleep of your guests.

Medium

Toughness of the mattress

Standard Bonell

This is a firm foam mattress with a sturdy frame consisting of bonell coils and PUR foam. The advantage of this mattress is its airiness; this is thanks to a resistant bonell coil with the gauge of 2.2 mm. The support and comfort during sleep is facilitated by PUR foam with a higher density which is placed on both sides of the mattress. Durable fireproof fabric cover BOSTON ensures both safety and endurance. The above- standard height of 21 cm will give the necessary comfort and will make it easier to rise from bed.

Medium-Hard

Toughness of the mattress

Standard Foam

Double-sided sandwich mattress ideal for hotel clients who prefer firm foam. The middle layer is natural coir; the core of the mattress made of quality PUR foam provides the support for your spine. The advantages of this mattress includes the choice between the firm or soft comfort level and the possibility to adjust the height (either 20 or 16 cm) by means of combining it with any mattress topper.

16 or 20 cm

Mattress height

Hard

Toughness of the mattress
Headboard
You can combine all headboards with any type of boxspring bed you choose
The headboard color and boxspring bed can be selected from about 200 different color shades of our fabric selection. If necessary, we are able to upholster a headboard and boxspring bed by using your own fabric or leatherette so that the bed perfectly matches the interior of the hotel room.
Variable
Height and widts of the headboard
Sauvage

SIRIUS

GEMINI

VEGA

VELORUM

BELLATRIX

VIENNA

RHOMBUS

HORIZONTAL

WILD

INDUSTRY

KINGSTONE

NOBILIA

SPECTRA

NAVY

FRANCESCA

CLAUDIA

ARGENTINA

CORONA

ALESIA

MIRACH

PARIS

ATLAS

ENIF

PRESTIGE

SIENNA

MELVA

WALL

FORREST

CHESTERFIELD

HONEY

FRANCESCA LUX

CLAUDIA LUX

SOUL

CORIUM